Wolverine team
The aim of our team is to provide the best budjet accommodations and exciting adventures for our guests.
Wolverine Team is the cooperation of experienced guides, interpreters, tour managers, field-cooks, drivers and guest house personel.
Alexander Meschankin - the founder of Wolverine Team (experienced English-speaking guide) would be happy to answer any questions you have.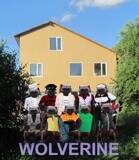 By choosing Wolverine Team services you get:
- cozy accommodations at reasonable price,
- good location for your jorney (Wolverine guest house is situated 5 min from airport and 15 min from Petropavlovsk-Kamchatskiy),
- delicious Russian cuisine,
- wide range of tours and excursions offered by main Kamchatka tour operators,
We also give discounts and bonuses to the groups